BIODIVERSITY CLUB ACTIVITY REPORT
(2018 TO 2019)
ORGANIZATIONAL  STRUCTURE    OF  BIODIVERSITY CLUB.
Patron : Principal of the K.S.M.D.B  College
Coordinator : Mrs. Dhanya S.R, Asst. Professor in Botany.
Executive committee : Dr. Mini Chandran.C ,Associate Professor in    Zoology,
                                                   Dr. Geethakrishnan Nair.P, Asst.Professor ,Dept. of Botany,
                                                     Dr. Susmi Sabu, Asst. Professor,Dept. of  Sanskrit,
                                                       Dr. Preetha G Prasad,  Dept.of Chemistry
OBSERVATION OF WORLD ENVIRONMENT DAY
 The World Environment Day celebrations kick started on 4th June 2018 Saturday by hoisting the environment day banner at the college courtyard. Followed by that a one day programme was arranged named 'Tree walk'. The one day workshop began with an inaugural session. Dr. Geethakrishnan Nair, H.O.D , Department of Botany, welcomed the guests. Principal Dr. K. Beena inaugurated the session. Smt. Dhanya S.R . Convenor of College Biodiversity  Club offered felicitation. After that the one day camp had three distinct sessions. In the first session, Smt. Dhanya S.R . Convenor explained the importance of riparian vegetation and its relevance in sustaining life.
A Tree-walk was conducted in the Sasthamcotta lake   premises on 04th June 2018. After that Biodiversity club volunteers shared their experience on  tree walk they have experienced .
 An environmental field trip was arranged for club members on 5th  June 2018 to the banks of  Sasthamcotta Lake for cleanliness drive . Total 35 Biodiversity club members have participated in this event.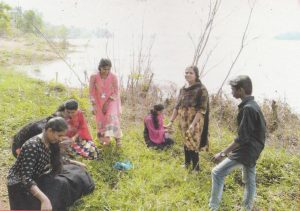 FIELD TRIP TO SHENDURNEY WILD LIFE SANCTUARY
The Biodiversity club conducted a one-day Nature Camp at Shendurney Wild life Sanctuary. Students and faculty went on a field trip to Shendurney Wild Life Sanctuary on 22.12.2018.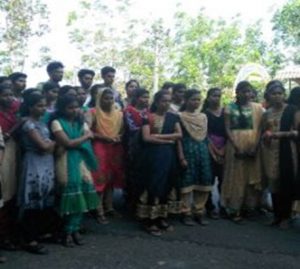 The sanctuary has thick forest cover and is also noted for many exotic plants, some of which are medically important. Four different types of vegetation have been found in Shenduruny. They include: West Coast tropical evergreen forest, West Coast tropical semi-evergreen forest, Southern moist mixed deciduous forest and the Southern hilltop tropical evergreen forest. Of these four, the tropical evergreen forest comprises one fourth of the total Shenduruny forest area.The Shenduruny forest, which was declared a wildlife sanctuary in 1984, gets its name from an endemic species of tree called Chenkuruny or Shenkuruny (Gluta travancoria). In the central region of this moist, mixed deciduous forest, spread over a hilly terrain of over 100 sq km is the 26 sq km artificial lake formed by the Parappar dam built across the Shenduruny and Kulathupuzha rivers.
Pneumatophores (Breathing roots) in Shendurney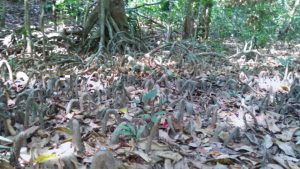 RAPID ASSESSMENT SURVEY ON IMPACT OF FLOOD ON BIODIVERSITY-AUGUST 2018
The report of Rapid Impact Assessment of flood on Biodiversity is a collaborative effort of Biodiversity Management Committee (BMC) and Kerala State Biodiversity (KSBB) with the technical inputs from a wide range of research institutes and stake holders. The objective of the process was to undertake a rapid assessment of the damages to ecosystem and Biodiversity after the floods and to lay the foundation for a recovery and ecosystem based reconstruction process at local level. The biodiversity club coordinator has participated as Field Expert in the "Rapid Assessment Survey on Impact of Flood on Biodiversity- Community Perspective" conducted by the Kerala State Biodiversity Board, Government of Kerala  from October 2018- November 2018.
A Joint team of subject experts Ms.Dhanya S.R ,Asst. Professor in Botany (Biodiversity club convener ) , Dr. Manju.M  , Asst.Professor in Zoology and 5 Biodiversity club members( Rahul.S , Adarsh.M, Jegath.S , Arun.P and Sonu.S ) with representation  from KSBB was constituted to conduct a rapid impact assessment of floods in Munroe Islands. The team visited the affected areas and data was collected in a prescribed format using Open Data Kit software. Our team visited the affected areas in Munroe Islands to understand   the extent and the nature of damage and record the findings.
FLOOD ASSESSMENT SURVEY ON IMPACT OF BIODIVERSITY IN MUNROE ISLANDS-2018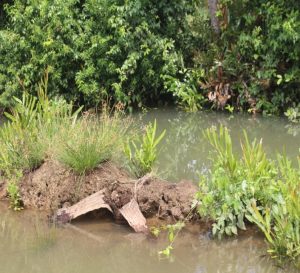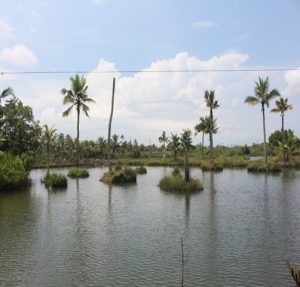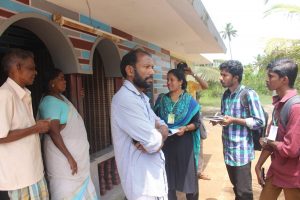 Assessment survey on impact of flood in Munroe Islands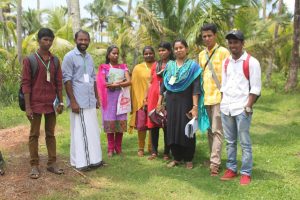 Our team in Munroe Islands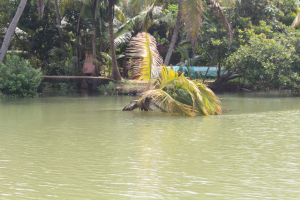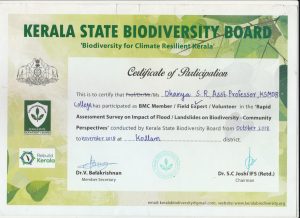 Documentation of invasive alien species of Sasthamcotta Lake.
Invasive alien species occur in all taxonomic groups, including animals, plants, fungi and microorganisms, and can affect all types of ecosystems. While a small percentage of organisms transported to new environments become invasive, the negative impacts can be extensive and over time, these additions become substantial. A species introduction is usually vectored by human transportation and trade. If a species' new habitat is similar enough to its native range, it may survive and reproduce.
The Biodiversity Club conducted the documentation of invasive alien species of Sasthamcotta lake which affect riparian natural vegetation of this fresh water lake in October 2018. The Biodiversity Club members attended the field trips  to identify the invasive alien species.  Students visited and collected samples from different areas of Sasthamcotta lake .
IMPACT INVASIVE ALIEN SPECIES OF SASTHAMCOTTA LAKE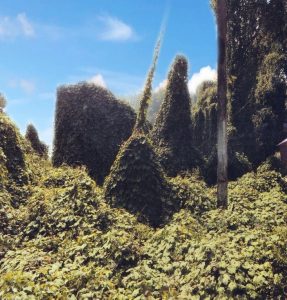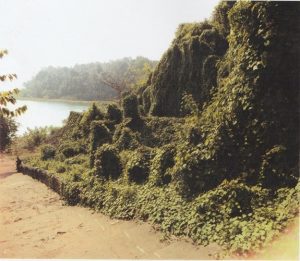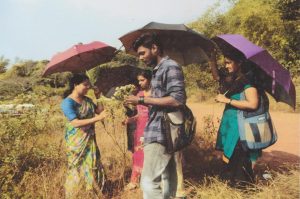 DOCUMENTATION OF INVASIVE ALIEN SPECIES
 EXHIBITION OF MEDICINAL PLANTS
Biodiversity club organized an Exhibition of "Medicinal Plants" with an aim to create awareness on the value of medicinal plants and to promote their preservation, March 20th, 2019. The Biodiversity club organized the medicinal plants exhibition at the College campus. The exhibition has the intension of creating awareness to the public about the  utilization and importance of medicinal plants growing in this biosphere and elsewhere. We were also honored Smt. Sarawathyamma Vrikshamitra award winner of Kerala.
The medicinal plants exhibition stall was inaugurated by Dr. K. Beena , Principal , K.S.M.D.B College, Sasthamcotta. The main attraction of the exhibition was exhibiting nearly 100 rare medicinal species, and explaining their use and the important phytoconstituents present in them.  The nutritive value of common fruits, pulses, cereals were also displayed.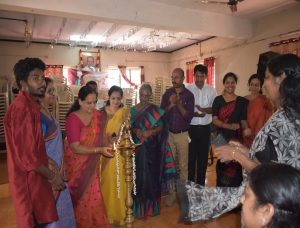 INAUGURATION OF   MEDICINAL PLANTS EXHIBITION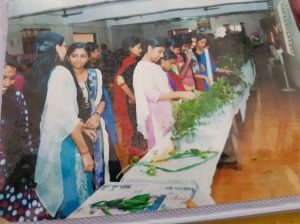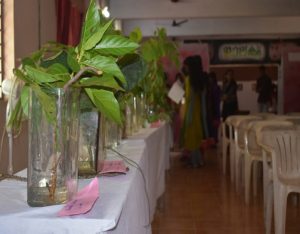 OBSERVATION OF WORLD FOREST DAY
World Forest Day celebrations   started on   20th March 2018  by organizing an exhibition of medicinal plants. The Biodiversity club and IQAC jointly organized one day seminar on the topic "Biodiversity conservation" on  21st March 2019. The inaugural session was started with prayer followed by welcome address by Dr. Jayasree .V , IQAC Coordinator . Principal Dr. K. Beena inaugurated the session. The Key note address was delivered by Dr.P.S Easa , Former Director ,Scientist , KFRI, Peechi and he spoke about theme of 2019 "Forests and Education" and created awareness on how sustainably managed forests provide a wide array of contributions in this area. Prof .Arunkumar .R , Member ,Kerala University Senate offered felicitation. Smt. Dhanya S.R, Coordinator Biodiversity club   delivered vote of thanks.