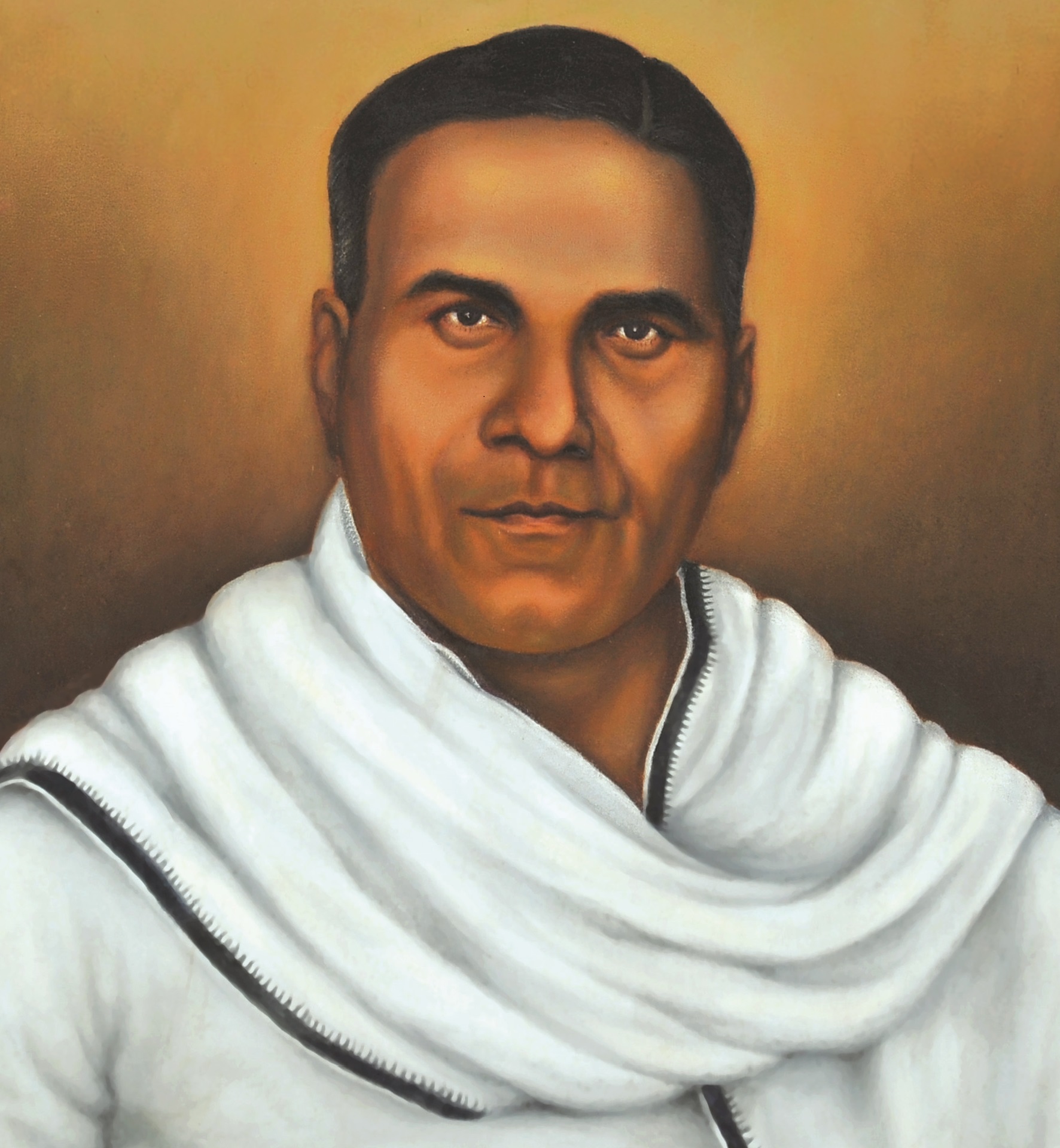 Sri. Kumbalathu Sanku Pillai
(1898 – 1969)
We gratefully salute the memory of Sri Kumbalathu Sanku Pillai, the founder of this college, our guiding light and a towering figure in Travancore politics of his time. An upper caste by birth, who fought relentlessly against untouchability, a Gandhian in principles and action, he was a prominent figure in freedom struggle. With an unblemished history of selfless public service, Sri Kumbalathu Sanku Pillai stands apart as the great social reformer who opened the gates of Panayannarkavu Temple and Kannankulangara Temple near Panmana Ashramam for all castes even before the Temple Entry Proclamation of 1936. He served as the President of the state wing of Indian National Congress from 1949 to 1951. He realised the power of education in bringing about social revolution. Sri Kumbalathu Sanku Pillai will always be remembered by posterity as the founder of many educational and cultural institutions which include KSMDB College Sasthamcotta, providing opportunity for empowerment through education to thousands of students from marginalised sections of society.
Kumbalath Sanku Pillai one of the father figures of the erstwhile Travancore politics was born in Thottuvayalil Bungalow, a land lord's family on February 15, 1898 at Prakkulam in Kollam. At the age of 18 Sankupillai moved to Panmana to look after the ancestral properties and he settled down there. He was credited with a convetous social influence in the initial days of his public life as a mediator among the people for solving their local disputes. Though an upper caste by birth Sanku Pillai fought relentlessly against untouchablity prevailed in the state following the words and deeds of Mahatma Gandhi. It was the revolutionary traits which spurred Sanku Pillai to organise a mixed meal and bathing with backward class brethren. Then he was barely 22 years old. And even before the "Temple Entry Proclamation of 1936″ Sanku Pillai had opened the gates of Panayannarkavu Temple and Kannankulangara Temple near Panmana Asramam to all the people irrespective of their caste. " Backward caste members are also human beings. If God will flee from temple because of their entry into it let God flee " – he had said
It was the late barrister A.K. Pillai who initiated him into politics and Sankupillai became a part and parcel of the freedom struggle by plunging into it. He was put behind the bars many times. He was in the forefront of the struggle to end the Diwan's rule of Sir C.P. Rama Swamy Iyer in Travancore. Centered at Panmana Sanku Pillai played a keyrole in the political scenario of Kerala by taking many major decisions regarding the swearing in and out of some ministries.
In 1948 Sankupillai directed to alter the ministry presided over by Pattom Thanu Pillai for the reason that Pattom denied two cents of land at Thiruvananthapuram for treasuring the physical remains of Swedasabhimani Ramakrishnapillai, colossus in Malayalam journalism. Sanku Pillai had no doubt for doing this though Pattom belonged to his own party – State Congress. He was averse to be in power but he was the "King Maker". He has served as the K.P.C.C president due to the insistence of his fellow men during the short period 1949 to 1951.
The meeting of Sanku Pillai with Chattambi Swamikal was a hall mark in the legendary life of Sanku Pillai. He invited Swamikal to visit Panmana and Swamikal reached there at the fag end of his life. Though Swamikal was 45 years older than Sanku Pillai he always addressed Sanku Pillai as 'Karanavar'. Swamikal remained the mentor of Sanku Pillai. He established an Asramam at Panmana where the Samadhi of Swamikal is situating. Asramam was a nerve centre of kerala politics for half a century as Sanku Pillai was there to steer it.
Sanku Pillai was the founder of many educational and cultural institutions which include Devaswom Board College, Sasthamcottah. Sanku Pillai passed away on April 16, 1969.
Sanku Pillai has recounted his experiences in a book titled "ENTE KAZHINJAKALA SMARANAKAL", which is a pulsing document of the history of Kerala.
Sanku Pillai is survived by two daughters Madhavikutty Amma, Sathi Amma and younger son Vijaya Krishna Pillai.