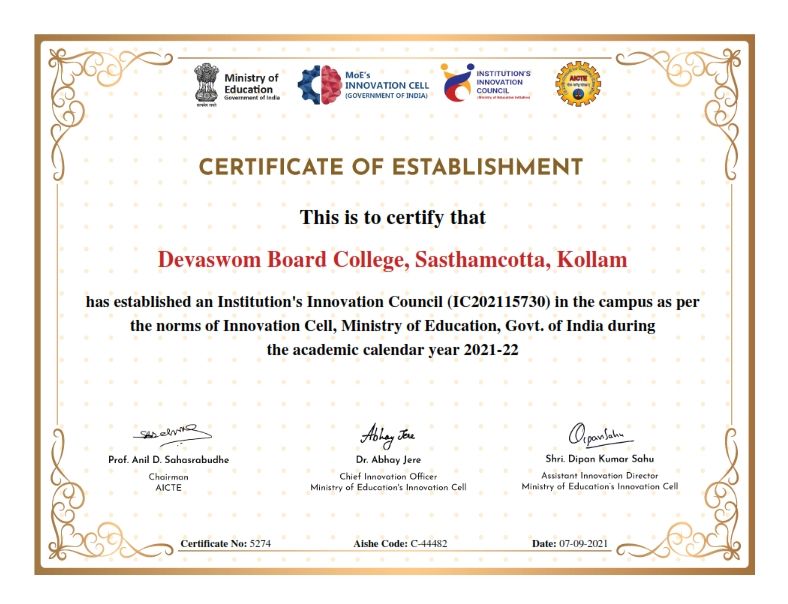 Institution's Innovation Council (IIC)
Ministry of Education (MoE), Govt. of India has established 'MoE's Innovation Cell (MIC)' to systematically foster the culture of Innovation amongst all Higher Education Institutions (HEIs). The primary mandate of MIC is to encourage, inspire and nurture young students by supporting them to work with new ideas and transform them into prototypes while they are informative years.
MIC has envisioned encouraging creation of 'Institution's Innovation Council (IICs)' across selected HEIs. A network of these IICs will be established to promote innovation in the Institution through multitudinous modes leading to an innovation promotion eco-system in the campuses.
Major focus of IIC
To create a vibrant local innovation ecosystem. Start-up supporting Mechanism in HEIs. Prepare institute for Atal Ranking of Institutions on Innovation Achievements Framework. Establish Function Ecosystem for Scouting Ideas and Pre-incubation of Ideas. Develop better Cognitive Ability for Technology Students.
Functions of IICs
To conduct various innovation and entrepreneurship-related activities prescribed by Central MIC in time bound fashion.
Identify and reward innovations and share success stories.
Organize periodic workshops/ seminars/ interactions with entrepreneurs, investors, professionals and create a mentor pool for student innovators.
Network with peers and national entrepreneurship development organizations.
Create an Institution's Innovation portal to highlight innovative projects carried out by institution's faculty and students.
Kumbalathu Sankupillai Memorial Devaswom Board College has a MHRD recognised Institution's Innovation Council (IIC) which functions as per the norms of the Government of India to create an ecosystem for innovation and cultivation of ideas among students and faculties to  transform our graduates into job creators rather than job seekers. The IIC also act as a nodal agency to co-ordinate the activities of Idea Lab, ED Club, various departments, clubs etc.  The council also conducts programs such as workshops, seminars for entrepreneurship development and facilitates tools for technology development and its implementation.  IIC motivates and facilitates student participation in young innovator's programs. The council aims at the institutional focus of creating an eco-system including incubation centre also provides infrastructural and technical support for establishment of start-ups.  With these objectives the following programmes were organised by IIC.
The IIC has the following composition:
Name and Designation

Role

Dr. Anish K.

Asssistant Professor and Head

Department of Political Science

President
Dr. Nisha S. Panicker

Assistant Proessor

Department of Physics

Vice President
Dr. Sandeep S.

Asssistant Professor

Department of Chemistry and Polymer Chemistry

Coordinator,

Convener, IPR Activity

Mr.Sanu S.J.

Assistant Professor

Post Graduate and Research Department of Chemistry

Innovation Activity
Mr.Shinoj S.

Assistant Professor

Department of Political Science

Convener, Social Media
Ms. Shamna P.S.

Assistant Professor

Department of Mathematics

Coordinator, Start Up Activity
Dr. Ajayan T.

Assistant Professor

Department of History

Coordinator, NIRF
Dr. Rajesh R.

Assistant Professor

Department of Economics

Coordinator, Internship Activity
Dr. Geethakrishnan Nair P.

Assistant Professor and Head

Department of Botany

Coordinator, ARIIA
 

External Member

 

 

Prof. C.T. Aravind Kumar

Professor, School of Environmental Sciences

Mahatma Gandhi University, Kottayam;

Hon. Director, International Centre for Polar Studies, Mahatma Gandhi University, Kottayam; Hon. Director, Inter University Instrumentation Centre, Mahatma Gandhi University, Kottayam; Coordinator, Sophisticated Analytical Instrument Facility, Kottayam

Incubation Centre
 

Student Members

Mr.Robin Lawrence

Department of English

Coordinator, Innovation
Ms. Abhisree R.S.

Department of Mathematics

Coordinator, Start Up
Ms. Jeena Jose

Department of Political Science

Coordinator, Social Media
Mr.Hithesh Das

Department of Economics

Coordinator, Internship
Ms. Asha Das

Department of Physics

Coordinator, IPR
Rajalekshmi S. Nair

Department of Commerce

Member