The history of the department of Sanskrit, KSMDB College, Sasthamcotta can be traced back to the proposal from the scholars and the general public in the leadership of Sri. Kumbalathu Sankhu Pillai, the great politician and social reformer, for starting a centre for advanced studies in Vedanta on the hill top near the temple of Lord Sastha in Sasthamcotta. The proposal for centre for Sanskrit studies resulted the establishment of an Arts & Science College by the Honourable Travancore Devaswom Board in 1964.
When the college was started in June, 1964 Sanskrit was taught as optional language for students. In 1970 as a result of great effort of the department and the management Pre-degree and Degree courses were introduced. Thus Sanskrit became a full-fledged department with Vedanta (special) as the main subject. In 1982 P G Course in Sanskrit Vedanta Special was started. As part of educational policy, government delinked Pre-degree course from colleges. The department offers UG (BA Vedanta) degree and PG (MA Vedanta) degree courses. 50 is the sanctioned strength of UG degree course and 15 is the strength of PG degree course. It also provides Additional Language courses for B.A./B.Sc./B.Com. degree courses and complementary courses for Malayalam and Hindi UG degree courses. 'Sanskrit to Modern Age' is the Open Course offered to UG degree students. Besides the regular learning process remedial classes, mentoring, counseling, peer-teaching etc are conducted to ensure the students' engagement in academics. Invited talks and Seminars are organized for knowledge updation and also to develop research aptitude in the students. Former teachers, Alumni and other well wishers established endowments and scholarships for students. The department has a great track record in securing University Ranks in UG and PG courses.
Prof. N. Gopinathan Nair was the first Head of the department. Dr.N.Ramakrishna Pillai was the second Head of the department and later he became the Principal of the college. He was a great writer and leader. In connection with the golden jubilee celebration (2015) of the college the department started to organize commemoration of Dr.N.Ramakrishna Pillai in the college with active participation of his family. A publication wing entitled 'Prajna Publication' also started and now it provides more than 25 study materials for students. Now there are six faculty members in the department. Most of them have Doctoral Degree and initiatives are taken to upgrade the department as a Research department. This year witnesses the Golden Jubilee of the department, and various activities are planned, as part of the celebration Face Book Group and You Tube Channel entitled 'Samskritajyoti' was launched in June. The department also has an active Alumni association.
Faculty Members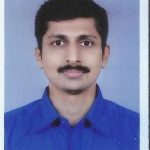 Dr. Susanth S
Dr Susanth S has 10 years of teaching experience in this college and is a rank holder in MA and a JRF awardee. He has a passion for lifelong learning and is especially interested in Vedanta.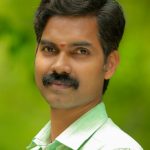 Dr. Sreegith T G
Dr Sreegith T G has 10 years of teaching experience in this college ((15 years of total experience) and is a First rank holder in MA Sanskrit, Vedanta. He has authored a book on 'Daivadasakam', The Universal prayer by Sreenarayana Guru and co authored a book named mithyatve hethuvicara in Sanskrit language, published by Sanskrit University Tirupathi.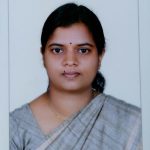 Dr Susmi Sabu
Dr Susmi Sabu with 10 years of teaching experience, is interested in Vedanta and has presented a paper in the 17th World Sanskrit Conference, hosted by the University of British Columbia, Vancouver, Canada in 2018.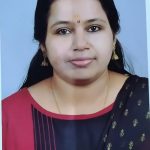 Dr. Vijayalekshmi R
Ms Vijayalekshmi R has 10 years of experience and has performed meritoriously as NSS Programme Officer. Her area of interest is Vedanta.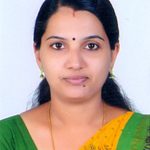 Ms. Jyothi Lekshmi T M
Ms Jyothi Lekshmi T M, with 10 years of experience has published three papers and made two presentations and her area of interest is Vyakarana.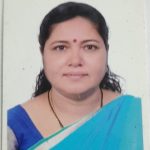 Dr. S. Jayanthy
Dr S Jayanthy, who has 8 years of teaching experience in this college (15 years of total experience) is the author of a book and has presented papers in national and international seminars.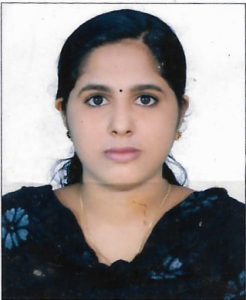 Athulya. A. R
M.A., M.Phil
Guest faculty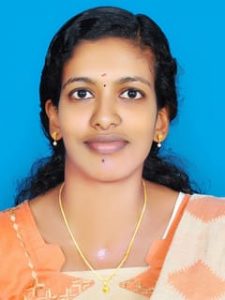 Anju J
M.A., M.Phil
Guest Faculty