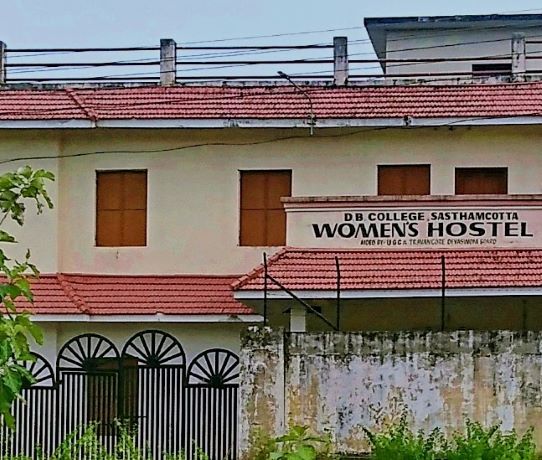 KSM D B College Women's hostel provides safe and comfortable accommodation at an affordable cost. It is located nearer to the college. Dr.S. Deepa, Associate Professor, Research & P.G. Department of Chemistry, K.S.M.D.B. College is the Warden and she presides over the administration of the hostel. She stays very near to the hostel and is always ready to go beyond the call of duty and extend work hours in cases of emergency and if any need arises. Matron, Smt.Resmidevi stays in the hostel to support the co-ordination of the overall activities within the hostel and control the utilization of the hostel facilities, ensure that hostel and kitchen adhere to health and hygiene standards set.
Hostel Facilities
Hostel has a mess which is run on a co-operative basis. Food is served in mess.
Daily housekeeping service is there to keep the hostel and its premises clean.
50+ students can be accommodated at a time. The rooms are allotted on a shared basis and they are furnished with separate beds, cupboards and study tables for each student.
A separate study hall is also provided for the self-study and preparation.
The hostel has a common room for recreation which has a television and newspapers. Various festivals such as Onam, Christmas, Iftar and other occasions such as New Year, farewells, etc are celebrated with colorful cultural programmes and enthusiastic games in this common room.
Another added attraction is round the clock power and water supply.
Admission Procedure
It is based on various criteria such as the number of seats allotted to different courses in the college, date of admission and in accordance with the policy laid down by the hostel committee from time to time.
All applicants are required to fill in the registration form available at the hostel office or at the college website www.ksmdbc.ac.in
A hard copy of the filled-up application form, duly signed and forwarded by the Head of the respective Department is also required to be submitted to the hostel office within 7 days of admission.
The candidate accepted for admission will be required to pay the requisite fees at the hostel and collect the receipt. Self-attested photocopy of the Aadhar card of student, parent/local guardian should be submitted at the time of admission.
Applications seeking admission to the hostel will be finalized after an interview with the candidate, her parent/s or one of her approved local guardians. A student under no circumstances can be a local guardian.
Admission of a student may be canceled for any of the following reasons:

Involvement in ragging
Misuse of electronic gadgets viz. mobile phones, laptops etc
Violation of rules and indiscipline.
Suppression of facts and/ or providing wrong information.
For hostel admission, contact numbers: - 9497440754, 9656362580